October, 2023
Golden will be electing a Mayor and two District Councilors this fall. Review the candidates' survey responses to gauge their support of Golden's cultural landscape.


HOWDY FOLKS!
The Golden Cultural Alliance is a nonprofit corporation whose purpose is to develop and promote awareness of Golden's cultural and historic assets, support member organizations by sharing resources and experience, and provide a forum for new ideas through cooperative marketing, projects, events, and public outreach.
Golden Cultural Alliance members include the cultural and civic entities in Golden: several museums, a library, a theater, a symphony, and a choir, to name a few.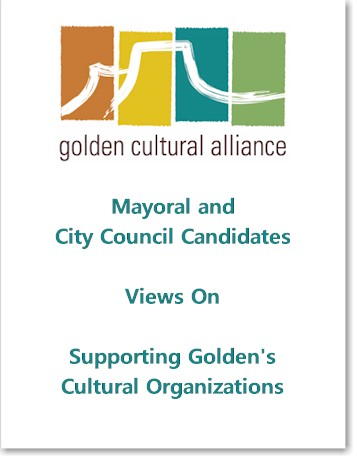 Current Members:
American Alpine Club
American Mountaineering Museum
Buffalo Bill Museum and Grave
City of Golden – Visit Golden
Colorado Cowboy Poetry Gathering
Colorado Environmental Film Festival
Colorado Railroad Museum
Dinosaur Ridge and Triceratops Trail
Foothills Art Center
Golden Beer Talks
Golden Chamber of Commerce
Golden Concert Choir
Golden History Museum & Park
Golden Landmarks Association
GoldenToday
Golden Visitors Center
Jefferson County Public Library
Jefferson Symphony
Miners Alley Playhouse
Colorado School of Mines Museum
Rocky Mountain Quilt Museum
Learn more about our members
The Alliance welcomes inquiries about its member organizations and special events. Contact Golden Cultural Alliance President Hassan Najjar, (303) 279-3922 or [email protected] for more information.